Pärnu is an amazing place. Give it some time, and soon you will call it your home.
Pärnu is home for many people who have moved here from abroad. Their stories, why they chose Pärnu as their next home, are different and very interesting. These stories give a good opportunity to look at Pärnu from a different angle.
You moved to Pärnu from Mumbai, one of the world's biggest cities. Do you remember your first impressions of Pärnu?
Let me begin with some background for context.
I discovered Estonia and Pärnu over a decade ago when I met my Estonian wife, Thea in Amsterdam. At the time, I was the CEO of a payments company that I had co-founded in India. We operated across India, Spain, and Latin America (Panama, Columbia & Costa Rica) while living in Panama. It gave me a perspective of living in different places and experiencing diverse cultures.
To keep the family together, we were deciding between staying in Panama or Mumbai. Thea, my better half, used to live in the US, has travelled the world and loves experiencing new cultures – hence she chose the excitement and chaos of living in Mumbai. With a population of 20 million, it is a pretty crazy place, where skyscrapers like Trump towers, Luxury hotels like the JW Marriott, Four Seasons and chains like Starbucks co-existing with slums and poverty.
Thus, on early visits to Pärnu, I thought it was a beautiful town but wondered where all the people were? As I was used to crowds. Most of the people I met in Pärnu were Thea's family and friends, and it was indeed a pleasant experience.
Visiting on holidays, is quite different from living in a place. Having spent over three years in Pärnu, I can say that this is home, and I love it here. Once you get to know them (Sometimes it takes over a year), Estonians are amazing people. Pärnu so far has been wonderful to me.
Why did you move here, and what were the selling points that Pärnu had to offer?
Pärnu is a family-oriented city with fresh, clean air that gives your health a boost. The traffic here is also zero headaches. Getting my license exchanged, doing my driving test – all have been pleasant experiences here in Pärnu. The traffic police, officials at the border guard for the residence permit, were helpful and kind. In the end, it is the people who make the difference, and Pärnu has be a positive experience for my family and me.
We also wanted our kids to enjoy their grandparents and have a more relaxed and fun childhood. Thea and I believe that the future generations are global citizens and wanted our kids to have a sense of their Estonian culture and heritage. Our five-year-old Marc now mainly speaks Estonian and English, and so does our teenager Mia. While I plan to teach Marc basic Hindi, Mia is fluent in the Estonian and can sing the Indian national anthem too (She went to International School in Mumbai).
Losing my brother in 2015 and mother in 2017 meant that we had no immediate family in Mumbai and felt that the kids would enjoy a better family life in Pärnu. I have another brother, but he lives in the Middle East since 32 years.
Estonia has the highest PISA ranking in Europe for Education, which is impressive. Today, IBM, Google, Microsoft, Adobe, Mastercard, Twitter, or even a fashion house like Channel has a CEO of Indian origin. Therefore, a mixed child with Estonian & Indian roots growing up in a country with a strong culture of innovation and startups offers a better foundation for a child's future.
What is your favourite part of Pärnu?
The beach and summer are the best here in Pärnu. It is a busy and fun time – barbeques with family and friends – summer parties -kids and adults enjoying late nights – and long bright days with short nights.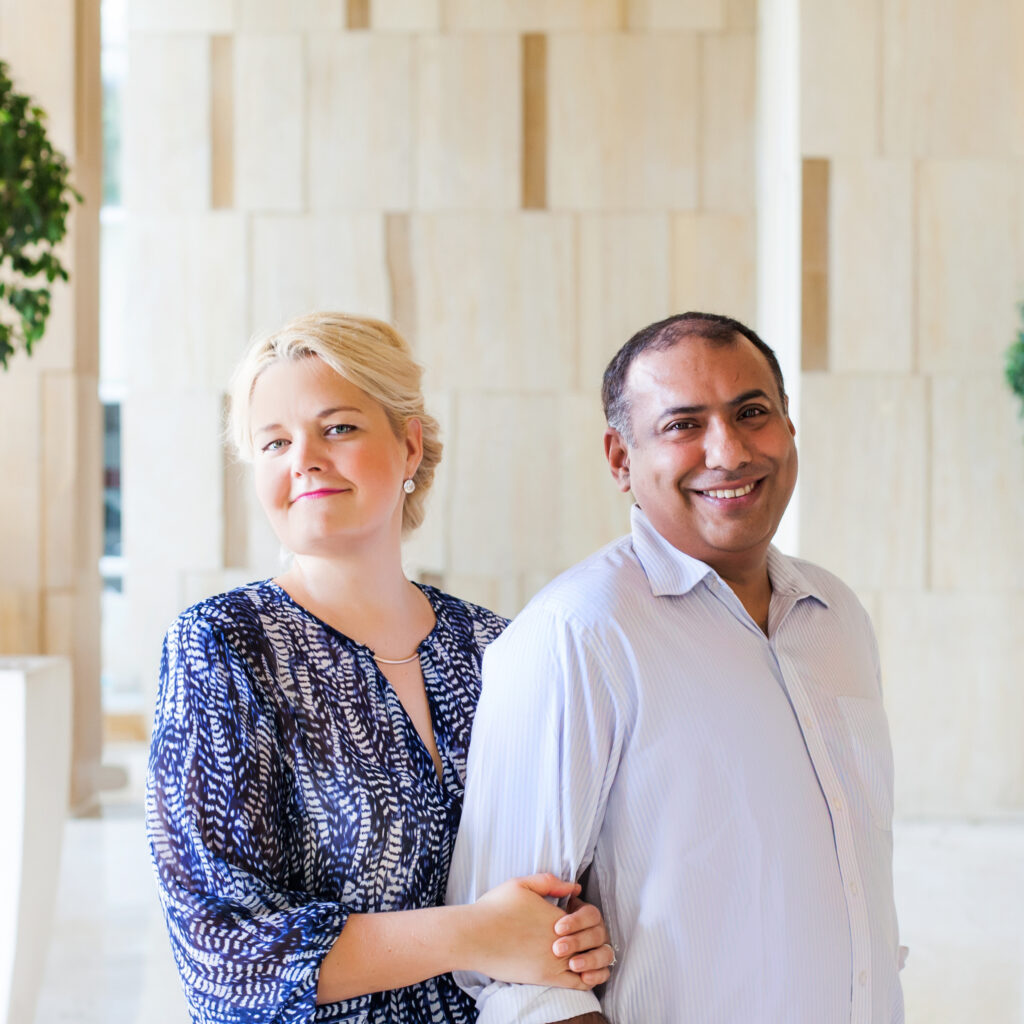 India weather is a bit different than here in Estonia. How long did it take to get used to the local weather?
I am still getting used to it.
In 2019 the winter was relatively mild. But this year feels a bit crazy. Where one day the temperature drops to minus and then back to plus and it is super slippery, not like the more or less consistent cold from previous winters. This winter is showing us that climate change is very real. 50% of Estonia is covered with forests, and Estonians are environmentally conscious, love and protect nature and yet climate change has affected all of us here in beautiful Pärnu. While Estonia is doing its part, the climate issue needs every country in the world to do theirs.
India is diverse in terms of people and weather. Mumbai in the west is next to the coast and has a warm and humid climate with heavy monsoons. Northern India has cold winters (1°C to 7 °C) and hot summers (30°C to 40°C). Northwest has a reasonably sized desert. It snows as you go further north towards the Himalayas. Southern India and Eastern India are equally different in weather with a beautiful coastline.
When was the last time you visited India? Were things changed how you looked at India after living here in Pärnu?
I briefly went to India for a week in 2020, just before corona. It just felt a bit more crowded and overwhelming after living in Pärnu. Yes, Mumbai & Delhi has large and beautiful airports, but once you go beyond that – you feel the problem that affects most big cities in the world – pollution and overcrowding.
I have spent time in Amsterdam, Madrid, and Panama, but home is where the heart is, and Pärnu is home and where my family and extended family are. I enjoy Estonian food and spicy Indian food is now slightly challenging, although very enjoyable.
What type of work do you do here?
Given my experience in building and scaling companies locally and internationally, I try to advise and help startups and others companies scale and go global.
Thea and I have invested in an EU certified organic herbs company in Pärnu. We are passionate about holistic health and the benefits that Organic herbs like ashwagandha, turmeric, moringa, ginger can offer. So many of the herbs sold here in Europe come from India; from my childhood experiences, we know and understand how to benefit from them.
For example, the company only produces 100% organic turmeric capsules manufactured in Pärnu. Turmeric sourced by us has high natural curcumin content that helps reduce inflammations within the body, especially the joints in cold weather. Ashwa in Sanskrit means Horse. Ashwa-gandha is another Herb used in Ayurveda to provide natural strength and boost sexual energy.
Have you travelled around Pärnu County? If yes, what are your favourite places that you recommend visiting?
The Pärnu Beach is always everyone's favourite and safe for kids with its shallow depth and gentle waves. Mushroom picking has been fun for the entire family in Pärnu, and foraging in the forest was a new and delightful experience. We also experienced the Estonian Bog with an overnight tour for adults. It was fascinating, definitely a must-try. We also had fun making the canoe trip in the Sooma National Park. You get to enjoy nature as you slowly paddle downstream.
What can you say to people who have recently moved here from abroad? What are the first things to do or mistakes to avoid when settling in?
Pärnu is an amazing place. Give it some time, and soon you will call it your home. People here are honest, nice, and helpful. Once you have good Estonian friends, you have found friends for life. Summer here is simply delightful – no wonder Pärnu is the nation's summer capital.
In terms of advice – Do not let any preconceived notions affect your view of Pärnu – give respect and warmth, and you will get it back in equally measure, but you have to be patient.
Please make an effort to learn a few words of Estonian; this will show that you care enough and are respectful enough. I am terrible with languages, and yet when I try – people at stores are kinder to you – and do have a small smile – it is not the easiest task, but they do appreciate your effort.
There is an amazing language club for interactions in Estonian for beginners and advanced speakers and is completely free. International House of Pärnu will help you connect with other expats and locals, while helping you address many of the issues you face while trying to settle.
When we moved here in 2018 these opportunities to connect did not exist – so my advice is to please take complete advantage of the opportunities that Pärnu offers and try to be an asset to the community.
Loe veel lugusid: